my merry tale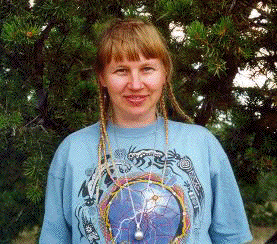 YESTREK 1997
once again a story really told creates a sound
so good that it's true

On July 6, 1997, I let go the anchor that moored me to the ordinary and set sail on a whim to meet in the flesh some friends first encountered on the Yes newsgroup, alt.music.yes., affectionately known in all the right circles as *amy.* These travels, meetings, and gatherings are described here under the headings "Yestrek "(my journey west from Ohio) and "Yesmeet" (time spent in California). The quotes are from Jon Andersongs, unless otherwise noted. Originally, many more fans of the music and friends of *amy* were in on the idea of meeting in person, hoping to collide with one another and have it coincide with a summer Yes tour. When the tour was posponed, one kind Wendyperson still offered her home as a place of harmonic convergence, and a few brave souls chose to embark on this joyous journey anyway. I was one.
in the days of summers so long
we danced as evenings sang their song
we wander out the day so long
and i do feel very well



miscelestial links:



to maybe say hello and say maybe that's all: e-mail.