*~*~*~*~*~*~*~*~*~*~*~*~*
July 15th, Yes Trek Day 5
*~*~*~*~*~*~*~*~*~*~*~*~*
Yann and I awoke first, and it was becoming apparent to us now how well Chris loves his sleep. So we took a hike up the mountain path.
walk me high as I walk the mountain
hand in hand the mystery light
afraid of nothing nothing can touch me
We didn't have water with us and the day was growing hotter by the moment, so I doubted we would get far enough to see the nicer scenery I knew might be dressed up and ready to meet us around any one of the bends ahead. According to the Internet description, there was a red canyon just over a crest somewhere. I was also aware that this kind of exploring and glorifying the natural world was maybe not Yann's cup of tea, although he was being very polite about joining me. We did have a quest though, a challenge: he seemed to like those. All morning I was enjoying a distant birdvoice I'd heard once before, and I wanted badly to capture it on audiotape. It was an ethereal spiraling song that you only hear west of the Rockies. (I would later identify the bird on an Audubon CD: Swainson's Thrush.)
There were some very strange mushroom-like plant formations thrusting bunches of pods everywhere out of the dry earth. I stooped to touch and study them. The sand was strewn with Pinyon and Bristlecone pine needles and the harsh environment softened every so often with dainty and exotic colors courtesy of exotic mountain flowers. The air was sweet with sage and the stunted conifers gave a unique character to the place. Back at camp, where Chris still slept, Yann and I thought we saw an eagle.
I went to the tent on the side where Chris was nestled, still deeply asleep. I waved Yann over to crouch with me and whispered his orders. Then we both belted out:
CHA CHA CHA CHA-CHA OOM !
After a few laughing repetitions, the sleepheavy head sprang up. Sorry Chris: how could we resist?! I made a fruit salad for breakfast, but didn't heat water for tea and a shave because we were already getting started so late.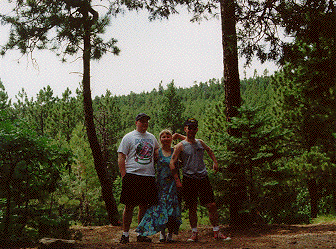 chris, merry, yann
We packed up and left Cibola National Forest, descended the mountain and found a restaurant in the town of Mountainair. The Hummingbird Cafe is one of those welcoming hippy outposts you happen upon unexpectedly in remote areas out west. A bulletin board out front displayed colorful flyers of community happenings. The area held an annual "Hummingbird-Garlic" festival. Inside was a comforting sign that read "Poetry Spoken Here." The menu board had vegetarian cuisine and burgers, Mexican as well, and the dexterous chef was also the owner. Running hot water in the rest room was very much appreciated and the coffee seemed like a reward for all the austere hardship we'd endured on the mountain.
Chris didn't care for coffee, Yann liked his black and mine was creamladen. Celtic folk music was playing and a traditional song from Jon's Promise Ring came on, the one he used for "Timing of the Known." The clientele all had an air of suspect character about them, so we fit right in, and there wasn't a single party of men in business suits. The green chicken enchiladas were my first greasy meal since Nashville and I wasn't quite up to finishing, so packed up the rest in Styrofoam to take along. The waitress kindly obliged me by filling my container with ice water, while a UPS delivery man (weeks before the strike), asked where we were from and questioned Yann about his U.S. Navy hat, disappointed that he hadn't served in the States. The man was from Michigan, like me, and we reminisced momentarily about the Detroit radio station we both listened to decades ago.
how we dance awake this song of the earth
come along
I got behind the wheel as we moved out, west toward the Rio Grande, and could now admire the change in scenery that had transpired in the dark the night before. Rocky ridges were stretched and resting in all directions upon an otherwise flattened landscape. The visual spheroids of green shrubbery contrasted nicely with the reddish earthtones and they spaced themselves out fractally: closer plants being larger and the more distant appearing as dots, with all the gradations of bush sizes between. The flora was arranged in that magnificent way that forms for the eye moving bands of color across a canvas of land. The patterns got curvy and whorly in the hillier areas and we weren't even ingesting hallucinogens. When the desert road straightened out, I offered to let Yann try to drive -- pardon my American arrogance, but a man of 28 who had never operated a motor vehicle? Unheard of! Not quite up to the challenge, he graciously declined. I put the pedal to the metal on the desert straightaway and the Yestrek careened through the 100 degree heat at 100 mph.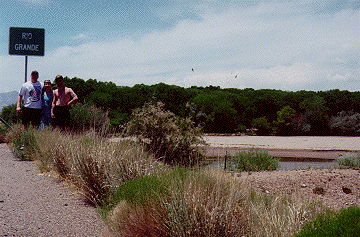 chris, merry, yann, Rio
We stopped at the bridge over the Big River for a group photo and turned north along it's green valley to drive toward Albuquerque, where we would hop on Interstate 40 West again. Yann was beside me the while and we listened to some tapes he'd made of Jefferson Airplane and Starship. I seized the opportunity to remind him of the primary way in which cars and trucks communicate on a long haul, the fisted-bent-arm-horn-cable-yank simulation, a way of saying"hello" to a passing trucker. If successfully executed, the gesture would elicit an accommodating HONK! from the grateful Joe Mac Truck. I'd showed it to him in Tennessee and laughing Yann was successful in soliciting many such blaring salutations along I-40.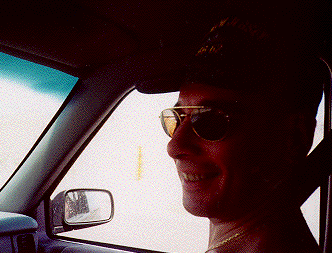 yann
You may recall that in the dark the night before Yann had told me on the mountain that he loved me. He had seemed out-of-sorts with me just before professing his love, so I took it more as an apology for complaining than as a profound declaration of any kind. I hadn't immediately believed him and asked sincerely if he were being honest. He'd said it twice. Now I began to grow curious as to the number of persons to whom he had made this claim, in order to gauge my rarity as an individual in his esteemed estimation. We had a laugh or two with this and I assured him I had never met anyone like him.
All along the Trek, Yann had been obliging me with the odd French lesson and by now we would often say "si vous plait" and "merci" and "pas de quoi" as when we needed to request a beverage from the cooler, a rest stop or photo op, or to thank one another for providing the same. I was ready to hear him speak at length in his accustomed way and requested he say a few things in French. "A good white wine," I remembered, contained all the nasal-vowels-with-"n" unique to his language, silly sounds, you know, so we began with that. "What else can I say?" he asked. "I told him, "Say 'the hair on your legs is very beautiful.'" That made him laugh 'til he snorted. He taught me "beau" and exquisitely so, spoken in reference to the butteful reddening landscape that was now featuring unlikely carved sandstone formations.
A first close look at the same came at a stop in early Arizona for a driving switch, at a trading post beneath one such towering rock sculpture bedecked with big plastic animals. Inside, the tourist trap featured a real dead stuffed panther, on display above a spread of Tribal Nation (Indian) blankets, jewelry, dream catchers and maracas which tempted this weary traveler seeking only the comfort of a clean restroom and maybe a free map. I had promised Wendy a souvenir and got us both some silver/turquoise earrings. Then the gourd maracas summoned me and spoke clearly -- katickety -- promising to shake up future settings with a dimension of festivity. How could I not respond?
Chris steered us on through the Painted Desert and Petrified Forest, toward and into the mountains of Flagstaff, Arizona. Encounters with with food while driving, days ago, somewhere or other, had lead to some interesting observations by Yann regarding the contrasts in textures of fruit and cheese (I felt these were further enhanced with an added shake of cayenne, AKA capsicum). Yeah, we were desperate for conversation topics: so what? Now, and truly fascinating, indeed, in the fast-acting desert heat, was the sly, subtle, surprising way the chocolate surroundings of a Ben N' Jerry's Cookie Dough Peace Pop would loosely fall into your lap as your teeth attempted each frosty invasion into its cold doughy sweet vanilla ice cream center. Chris had purchased one for each of us at a gas station in Winslow and he manned his many napkins, prepared.
The sky had been the deepest blue all day with clouds around that tried unsuccessfully to rain, gray spray evaporating before it reached, to touch, to quench, the arid earth. We did get a sudden smattering of splatters which ended as soon as the windows went up. The heat would build up quickly in the van in the desert when the air wasn't coursing through, so we'd coasted along in the hot dryness most of the day with the windows down. Now we switched to AC. I shared with the young men remnants of my Hummingbird Cafe Mexican leftovers. Descending the Kaibob National Forested area of Flagstaff we had Going for the One blaring while darkening hilly mountains shifted their bulks, sliding, advancing, retreating, before us and after, all in the glow of the lateday sun. I was glad to be in the back, sightseeing. We stopped on the road at sunset and stepped back out into the elements to photograph the desert dusk.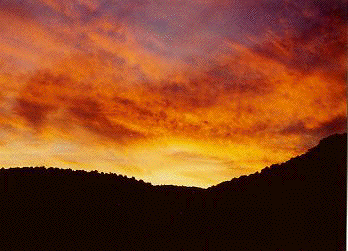 I would drive the last leg, to Las Vegas and beyond. In Kingman, Arizona, we left I-40 to travel twilight on a "Blue Highway." Yann took a picture of a sudden, jutting thrust of mountains and I asked him,
"would you like to go and shoot the mountain masses?"
We were heading north now and Venus was gliding along low ranges to the left of us. Once the road curved toward the range as it tapered downward and it appeared that Venus was walking down the mountain. Was I the only one who noticed these things? "Look, it's Venus!" Chris and Yann knew seemingly little about the subtle wonders of the natural world we were passing through, and the Earth Mother in me took it upon herself to instruct them whenever possible. They were mostly accomodating at the many intrusions, fragments of nature thrust into their faces. "Smell the eucalyptus!" "See the vulture!" "Taste the honeysuckle!" "It's the moon!"
A compilation tape of meditative music by Jon Anderson and friends was now providing the soundtrack -- "Bless This," it is entitled, made for me by Jon sympathizer, Paul Pettengill. Entranced we surely carried on, the mysterious mountains sneaking around us now in the starry darkness. As we neared Vegas, however, the mood gave way to a strange anticipation. When the tape ended we tried the radio and found a local station that played Elvis and Sinatra and Tom Jones. Hearing them sing was not unusual in these parts and we left it tuned here to prepare us emotionally for the sights of Vegas.
We arrived at the Hoover Dam and stopped at two scenic turnouts in the deep heat still radiating from the severe desert day at 110 degrees or more. As we wound through and around and away from the immense manmade marvel, I was having doubts about the need for such an extravagant device to power, primarily, so empty an enterprise as the phenomenon of Las Vegas. A passing equestrian farm was emanating the distinct pungent reek of hot horsepoo as I haughtily pondered.
A way down the spiraling, curvy, hilly road we found a tourist welcome center, closed, but with an outdoor phone. We called to inform Wendy, who eagerly awaited our arrival, of our progress and passed the phone around. A kindly, flowering Oleander bush provided cover for some, um, "comfort." We were ready for Las Vegas, or so we thought. As we wound through the last of the low, dark mountains we went over a rise and were delighted to suddenly see the lights of Vegas, glaring and glimmering in the heat all along the horizon ahead. We pulled over and piled out for a photo and to just take in the spectacle from afar. My automatic shutter was staying open for a long time, so I spun the camera around.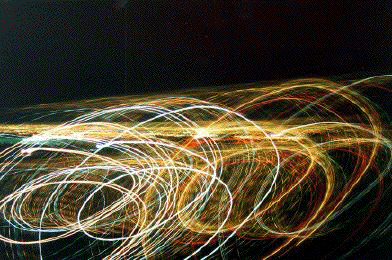 Las Vegas
The descent into the city was far less spectacular for me. The place gives off an aura of vice that is more conspicuous to behold than the sum of all its neon. We were at first wowed by the lights, but then gradually grew numb with the passing signs offering cash in exchange for wedding rings, money for car titles. There were cheesy chapels, people in hoards, or herds, raging unnatural color, unlikely images of every icon to anything ever imagined in glowing, glaring, excessive absurdity. I was driving and Chris climbed into the back with a sick stomach. He later described the sensation as having a piece of his soul sucked out of him.
Yann was looking to the end of "The Strip" of most outrageous illumined structures in search of the MGM Grand Hotel. He needed a photograph of the building because of a reference in a Stephen King novel. When we got to the precise spot, a stoplight pause provided the perfect angle, only Yann's camera malfunctioned and Yann's composure went out the window. His film exploded out as he checked to see why it wasn't advancing, and as I calmly snapped a photo on his behalf, he threw the whole works, film, camera and all, into the trash can. So, Chris was sick, Yann was flustered and I was growing uneasy and queasy and wanted to get out of town fast. I looked at the map while U-turning and Yann navigated me away, north into the silent dark expanse of desert. We needed gas but didn't stop, hoping the next dot on the map might provide a filling station.
Yann couldn't or wouldn't share with me his impressions of Vegas. It seemed an appropriate time to play a CD he had given me as a gift of meeting. The shrill sounds of Chinese opera pierced the silence. Chris, my relief driver, fell asleep, and I wearily I screwed up my eyes to discern the local Pacific time while staring at the van clock, still set to Eastern Daylight Time. My biological clock was confused and I was overwhelmed and tired in surroundings that were strange, surreal. A lopsided moon was coursing through a chiaroscuro sky and the low ranges were prowling along. Earlier, we had discussed the possibility of driving into the night, knocking miles off the desert distances while it wasn't as hot. But I didn't want to disturb Chris, couldn't go on myself any more, and began hoping the town of Indian Springs had a motel as well as a gas station. It did and Yann expressed a strong interest in stopping as well.
It was a seedy dive. No non-smoking rooms were available, but I was too spent to mind and offered to take the floor, let the guys have the beds. On my way down to the van to get bedding, I noticed a pick-up truck with it's red tail lights on, motor running, which I'd seen out in the parking lot when we first arrived with a woman behind the wheel. A guy got out the passenger side nervously, averting his gaze, zipping his pants, and he high-tailed it up to a room. I followed warily and heard him fumbling with the doorchain as I passed. Our room had a bare light bulb and a faint aroma of Aqua Velva, quintessential elements in any seedy dive experience, I felt. The guys were suddenly awake and drinking beer and I was pretty keen on getting some serious rest for our last leg tomorrow. I requested that we curtail the usual evening celebration, down the brews and dim the bare bulb. They obliged me and sleep came like a drug in God's country.

my merry tale **** Day 6