*~*~*~*~*~*~*~*~*~*~*~*~*
July 19th, Yes Meet Day 9
*~*~*~*~*~*~*~*~*~*~*~*~*
Again I woke up aware of the warmth of being in a wonderful home among friends. Every side of the bed is the right side at Wendy's, so my first moment of consciousness shone and the rest would take on a tone that was similar. I began looking for lyrics for us to sing to Yann and had Talk cued up, monitoring the part in "Endless Dream" that read "first words ever to reach out to you." There was a discrepancy, though, between what was printed on the lyric sheet and what Jon sings, which is just "ever to reach out to you," minus the "first words" part. So I reversed to an earlier segment of the song that seemed meet, but, once again, even before we could rehearse it once through, the phone rang and Wendy answered: it was Yann. She handed me the phone and I sang:
I sing this to you
all the world and all it is
I bring this to you
this gift of love
He mentioned that some of the Trek photos were ready at Walmart and I said I would happily transport him there, unable to wait to see them myself. Curt and Wendy's directions to the Motel 6 and Walmart were complete in a way that made navigating easy. Curt provided all the street names and rights and lefts, while Wendy described the lay of the land on the way, pointing out prominent visual features.
Soon Yann's beaming visage gleamed again in my passenger seat and in no time we were entering Wally's Magical World. We gathered the envelopes of images that would lend a clear light to our memories and advanced to the greeting card department, where Yann sought a note with which to remember his father's birthday. I was looking up at the piñatas, hanging colors of fantastic shapes, in a row high above. Would Wendy prefer a rainbow or a watermelon slice, did Yann think. He gazed up and said, decisively, "melon." I was leaning in the melon direction myself and we asked for assistance from a Walmart lackey. Next we discussed whether to get a stick and fill it with goodies, or present it whole and not threaten to decimate its shape in any way. Amused but real in thought, we let the melon be whole.
We followed the directions backwards to Yesmeet Central as I relayed to Yann my story of the giving of a garden melon to Jon Anderson after the Union show in Detroit. We entered presenting the oversized fruit icon to Wendy, who was delighted. Yann gave Chris the pictures that were his and me mine and we all spread out, flipping through them, showing them to one another, sitting in shifting clusters until all the images had been revealed. The process of getting the computer ready to scan the photos by Yann, Master of Images, began. He had a grand plan to share the Yestrek with all of Online Yesfandom and quickly became completely engrossed in doing so.
It soon became apparent that we were looking at many hours of work on the computer, which would preempt the plan to go to Santa Cruz. Wendy said that another Yes enthusiast, David Eyes, had phoned and was on his way here, FROM Santa Cruz, to spend time with us. To turn around and take him back there was silly. We discussed how the occasion was "feeling." Since it was mine and Chris' last full day in the company of this crowd of rare persons for whom our endearment was clear, we wanted it to be special. A distant outing might do more to distract from our ability to relate than encourage it, so we chose to stay home and just *be* together.
david
David arrived around the time a movement toward going grocery shopping was happening and he departed with the larger part of our party to see the movement through. I stayed behind to beat the heat and play in the sprinkler across the street with two young girls while Chris took pictures.
The assembly returned to proudly announce the decision to have felafel for dinner. "Hooray," I said, very much in favor of a foray into the cuisine of the Near East. I would be honored to help fashion it, and asked where were the garbanzo beans and garlic and lemons and yogurt and tahini and... "What was tahini?" the others wondered. "We just bought this pre-packaged mix." I wouldn't hear of it and began phoning healthfood stores until I located one with tahini (sesame seed paste). I sat through another fabulous direction session with the left and right brains of Curt and Wendy, then nabbed David to accompany me on a quest for only the purest and truest felafel elements.
We located the healthfood and grocery stores and furnished ourselves with all the needed ingredients while speaking animatedly of physical and spiritual health, herbal remedies, medical malpractice, musical aspirations, Rudolf Steiner and Steve Howe. I really enjoyed how easy it was to instantly like another Yes fan. Regardless of how different your roles in life might be, you almost instantly discover some shared passion (in addition to the foremost love of Yes) in lively conversation and find how similar your perspectives are in some regard or other.
words are only transportation
through the realms of exaltation
I heard about David's family and he heard about mine -- some, just a bit, because it was hard for me to talk about them without crying. Back at the Vigs, I showed him a stack of photos I'd packed to aide in relaying my world to others in just such situations. He had some electronic images on his cool digital camera and shared these with me. Right around now the phone rang and it was my husband, Jonh. He was in the vicinity with our kids and wanted to know if they could join us this evening. He'd done this, TO me, I felt, on my first day at the Vigs as well, called to claim me, absorb me back into the fold of my doting family and all the activity that was wonderful and my thing, and all. Only, well, I was *really* enjoying the process of just being myself and rediscovering my ability to make friends and be friends and (selfishly?) delight in being an individual. The phonecall tore me in two and I told him, them, my family, my life, not to come until tomorrow. I hung up in tears and Wendy hugged me a long time. She wandered down the hall and whispered to Yann, who came to me with his arms open wide. Jon's Song of Seven was playing in the background, lending comfort as well, as Yann held me and we danced.
come into my world
hold me in your arms
there's a mystery to the touch
how it heals so when we're broken
Dinner preparations ensued with conjoined girl-boy contributions in the kitchen, the joyful boiling of oil, whirring blender hum that homogenized yogurt and tahini, knifechop, lemonsquirt, beanmash, laughter, the creative chaos of contributions from too many chefs. Ironically, when placed in oil, the true felafels did not hold together in balls and it was necessary to corrupt the batter, coercing it into congealing by adding, after all, the prepackaged mix. It worked! Once more the spirit of cooperation moved swiftly to provide for us all an inviting banquet. Warm pita (pocketbread), tomatoes, cheese (untraditional since it wasn't feta, but it had been requested), lettuce, and the golden chickpea fritattas beside a creamy distinctive dipping sauce invited us to dine. Before indulging, we women placed some food on a small plate as an offering to higher powers, lit a candle and incense and danced a circular spirit dance to conjure up an evening of pure enjoyment.
Wendy coincidentally offered the very same variety of wine that I had adopted as my favorite on the first night of my 2-weeks-free-to-cavort-with-Yesfriends: Gewürztraminer! When it was gone I shared my own bottle, saved from the stop in Nashville and agreeably chilled. The light was fading, my camera didn't have a flash, and I hadn't yet captured the updated company we comprised with the addition of David. I set up another group snapshot (or seven) in the Vig backyard. While waiting for David, in his car making phonecalls, the rest of us enjoyed a frolicsome photo session.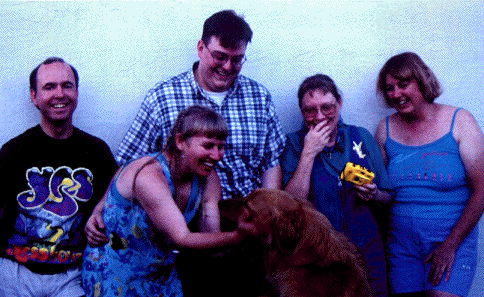 curt, merry, chris, dawn, wendy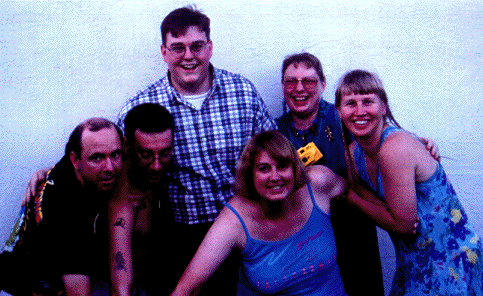 curt, yann, chris, wendy, dawn, merry
The glorious golden whole moon was rising! We agreed a march to the park was in order, to exercise Duke dog, walk off dinner, throw Frisbee and appreciate the last evening of this configuration of the Yesparty. Yann declined to come as he remained engrossed in his website and a pressing need to share the excitement with friends who were unable to participate. Magnanimous, I thought, and I knew by now that Frisbee wasn't his thing, but still, I missed his participation, especially since we all had so little time left together. Wistfulness was quickly setting in and, just as I had been avoiding feeling for my absent family, I now had to put off thoughts of taking leave of these dear people or tears would want to well up. Dawn and David joined the pre-rehearsed adept flinging trio of Curt, Chris and myself and Dawn told us to please stop showing off. Wendy made the rounds with Duke and the moon did it's brilliant glowing thing. The light was lovely and enough to appreciate the presence of my friends, but, unfortunately the Frisbee soon became all but invisible.

We returned to the pleasurable place on Weatherly Way so generously (have I said this enough?) offered by Wendy and Curt as a site of celebration to more or less anyone of Yessympathy. When the idea of a Yesmeet was first taking shape, Wendy sent the following words to the Yes newsgroup and I feel it is fascinating to read them again and see how her high hopes for us became a reality:
**
Curt and I don't want to leave anyone out. For those of you who may
have a difference of opinion in a.m.y or have less than good feelings
for someone on the lists that are coming or may come, we ask that
you try to put that aside in the true Yes Spirit, if you do in fact
want to join us. Having the chance to meet Yesfriends in the flesh
doesn't happen too often. When you look into someone's eyes for the first
time and really see them as a person, and not just words on a page, (a.m.y)
or just a name, you will be surprised at how your differences suddenly
fade. Mutual love for Yes becomes the thread that will tie you for life.
**
Just a note here of encouragement to those of you who may have wanted to join us, but decided the circumstances weren't such that it was possible to be part of this meeting of drooling Yessies. Of course, most of us had wondered to some degree whether we would get along in person and if it was worth it to gather despite the absence of a Yes tour. The answer is a resounding YES! If you ever have the opportunity to come together in this way, don't doubt doing so for a moment, if you can help it. We Yes fans are such an interesting and inspiring and artistic constellation of individuals, with so much potential for unparalleled fun in a group situation.
don't you hesitate at all - no no!
Curt and Chris broke out their guitars again, wine flowed, voices and percussion rang out, vibrating the warm night air in all directions. Hours later, after the enthusiasm died down, I reluctantly delivered Yann to his motel and said I would be privileged to dine with him at the hotel restaurant the following morning. I returned to give Dawn my place on the fold-out couch as she'd given David her futon so that he didn't have to drive all the way back to Santa Cruz. I slept cozily atop sleeping bags on the floor beside the sofa where Chris turned all night, perfecting his hairdo which would entertain us all the following morning, my last -- *sniff* -- in this remarkable company.

my merry tale **** Day 10