*~*~*~*~*~*~*~*~*~*~*~*
July 12th, Yes Trek Day 2
*~*~*~*~*~*~*~*~*~*~*~*
I phoned Chris from my hotel, asked for Yann and when I heard "hello?" in his moving mellow baritone, I sang:
you can feel it coming
in the morning light
and you know the feeling's
gonna make you feel all right
all you've got to do is
hold out your hand
--Chris Squire
And I would be right over. I arrived, was buzzed up and given the formal tour of the Emery facility. Soon I was privileged to be standing in another Yesfan's computing space graced with an image of the X-Files motif on the desktop. I was shown the contents of the box sent by Giotto Lady Kathy, a care package of trail mixes and exotic cookie and cracker thingies, seeds, mints, road musics and a kind letter of enclosure featuring a photo. We would later show her picture to all interested parties: Bill Maddock, Jeff Blanks, Derek, all at Wendy's, gas station attendants, turnpike fee collectors, etc.
We loaded up the van, had Chris' roomie snap a photo, and passed through the high-police-presence lanes of Christopher's Columbus. We watched for a camera shop, because I wanted slide film in 36 exposures, stopped for ice and beverages for the cooler. The ice man promised we would be passing a K-Mart soon and Chris and I were pleased to present to Yann an important American-flavored experience of consumerism run rampant. I shouldn't complain -- they did have my film. In the nearby music section they didn't have a bin for New Age CD's, though. I had been hoping to happen upon L'Apocalypse Des Animaux, or some other Vangelis CD not yet in my possession. I wondered if I should let Yann purchase my film along with his, as he was offering, because it seemed far too generous a gesture to just accept without a fight. But I let it go and thanked him for the capacious act of kindness, hoping to be able to make it up to him on the road ahead.
the road ahead can take us anywhere
Extravagant greenery below and above garnished the ribbon of road that we followed south and east to the sight of Serpent Mound, a snake effigy and an impressive earthwork constructed by the Adena people over 2,000 years ago. It was one of the wonders we once knew so well, I told my friends. Photo opportunities abounded as we approached the wiggling hillocks and walked the path around them. I scrambled without stumbling down a stone stairway in time to get into a group photo at the far end.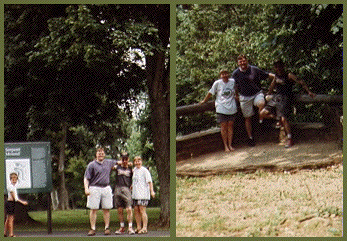 chris, yann, merry merry, chris, yann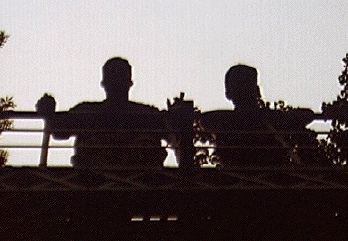 chris, yann
We climbed warm side the tower for an overview and also peeked into the gift shop.
One Serpent Mound-encrested can opener later we were on our way, opting for the greener, scenic routes 41 and 68 to the Lexington, Kentucky area where we would hop on the freeway and begin the trip to Nashville at an earnest clip. This did not happen, however, until after a stop at a McDonald's in Paris, KY, where we ordered French fries out of seeming necessity, in honor of Yann whose home is France. After the greasy repast, Yann seized the opportunity to inhale a cigarette because, champion of consideration that he is, he never for a moment would impose upon me in the van, knowing I was a non-smoker. Chris and I meanwhile took turns stepping in the same stringy wad of hot melted gum on our way into the vehicle.
Once on the Blue Grass Parkway, all of us disappointed that the grass, in fact, was green, the hours flew by filled with the supreme sounds of Yes and related CD's. We were fortunate to cross over a time zone and pick up an hour so that we arrived at our meeting place relatively close to the time we'd told Jeff Blanks and Bill Maddock to expect us. They had driven that day from Atlanta, Georgia and St. Louis, Missouri, respectively, and were waiting for us in Brentwood, Tennessee, when we rolled in around 7 pm CDT.
The venue was the home of my former brother-in-law and dear friend, Don Dunn, and his family, son Devin and wife, Alicia. They were away and had very kindly offered their premises, leaving a key. (Don is a guitar player, performer and songwriter and he had a gig that night in Chattanooga, Tennessee, playing Irish music in a pub, all Promise Ring like.) Jeff walked headfirst into the deceptive glass outer door, announcing our entrance with a resounding B-Boom. Laughing we passed the threshold and entered into an evening of food, drink, music, poetry recital, animated anecdotal exchanges and long, loud laughters punctuated by the now-famous snorts of halfnaked Yann.
Eventually on the trip I was to find the honk of Yann's snort a pleasing sound because it meant I had succeeded in moving him to laugh. There is a certain pleasure in pleasing Yann because his joy is sincere and radiant, affecting returned laughter, which in turn leads to another snort. Exchanges of this sort, a resonating amusement, were common in this crowd, the joyful noises increasing in cacaphonic crescendos that penetrated the thick, hot, humid air of greater Nashville that night.
Jeff had just attended the Nashville Summer NAMM (National Association of Music Merchants) Convention and told us excitedly that he had occasion to speak with the prestigious Bob Moog of sound synthesizing fame. "What did you say to him?!" I asked enthusiastically. "Hi, Bob," he replied. "That's all? 'HI'?" "Yeah." Yann asked if he'd seen Moog's daughters, "Poly" and "Mini." The upbeat conversing soon lead to hunger, so we piled back into the vehicles in search of food.
Jeff needed gas and an oil check, so the rest of us sought advice on the procurement of distinctive food and wine from a professional gas station attendant. In a thick southern accent he delightfully directed us to a Kroger with an adjacent wine shop. Bill and Jeff met up with us in the parking lot to specify their beverage desires before speeding off in Jeff's sporty car to hunt down some microwavable entrees at Harris Teeter's mega food store jungle. We had, I felt, an interesting exchange when the topic of beverages took a turn towards Cherry Pepsi and A&W Root Beer, as opposed to fine wine and imported beer. I was surprised at Jeff and Bill's delight in discussing and deciding their soft drink pleasures with an air of epicureanism. If I may venture a general observation of Yes fans -- dangerous, I know -- I would say we all seem to know clearly what we like, how to satisfy ourselves.
we're so good at finding pleasure
as to what we are and how we fit together
I was very impressed by Yann's easy comportment among the racks of wine. Sporting a knowing air, he displayed a swift and aesthetic ability to select the perfect accompaniment to whatever might be the flavors of the evening. In no time he had decisively stood three sleek bottles promising enjoyment before the clerk. I myself had to ask for assistance in locating my new favorite Gewürztraminer. (I would save it in the van for our last night with Wendy.) As we loaded the wine into the cooler, I noticed Yann was leaving the paper bag on the bottle, to preserve the integrity of the label. The care he demonstrated in this small detail imparted the sensitivity of an artist and I was touched.
The higher consciousness demonstrated by Bill and Jeff toward a healthier liver and minimal slurring of speech was to affect the course of the shopping cart down the Kroger aisles. We located Pepsi and IBC Cherry Soda to mix since they didn't carry the requested Cherry Pepsi, and found Guinness, for Chris. We also acquired cheese and bread and melons and olives and ham to offer as fuel for whatever revery was to unfold over the course of our carousing.
Back at the house the microwave went DING! and there was strumming in abundance once Jeff and Chris took out their instruments, as it were. Holding the lyric sheet, Yann and I sang an exquisitely awful version of "Shoot High Aim Low" to Chris' pickin' and grinnin' and thinkin' what the next chord might be. Jeff was helpful with chord suggestions, although his 12-string was tuned in open tuning, limiting the keys in which he was able to play. We did manage a lively collective singing of "And You And I" that was so rousing we decided to try to repeat it at Curt & Wendy's. Bill fearlessly read his personal poetry and we also exchanged stories between songs. The drunken ceiling fan wobbled close to our heads, but the celebration ensued undaunted by the threat of decapitation.
While we are on the subject of heads, I feel strongly here that I should devote an entire paragraph to Jeff Blank's hair. It is incredibly long and large. It is beautifully dark and cascading. It comes out of his head and it stands there. Along with his tight jeans it gave him the convincing comportment of a serious rocker.
Jeff was energetic and talkative. He had in tow two musical efforts of his own he was eager to share, "Electric Minstrel" and "The Ballad of Land's End." I knew that my brother-in-law had a music room somewhere, but a brief look around the house was not to reveal where he kept his stereo equipment, nor was I sure if he wanted me messing with it. So we adjourned to adorn the driveway, where I opened the back of the van and popped Jeff's music into the tape player. We all were impressed with his polished proggy pieces. I also played for them the tape Paul made for me of "I Wish" and "Skydance" and my humble "Treesong" (whose amateur overtones were obvious now in comparison to Jeff's music!) and "Teasong." We all were enjoying our beverages, Chris content to coddle his imported beer and Jeff and Bill cherishing their cherry colas, leaving all three bottles of wine to be imbibed by the lone Yann and myself.
Yann was visibly moved by "Skydance" and told me sincerely, "I love it," twice. Did he really? Or was the fall into folly that comes at the end of the second bottle of wine fazing his affections? I missed out on some of Jeff's music while trying inside the house to make sense of a sudden lapse in happiness experienced by our French friend. Yann poured out his sorrows and I listened sympathetically like an old drinking buddy. I had put away the whole bottle of Chardonnay, far too much for my sensitive constitution. I unfurled the bedding in the living room for the others, tucked Yann in, and slipped upstairs to steep in sleep on a girl child's bed I found with a carved angel on top.

my merry tale **** Day 3