*~*~*~*~*~*~*~*~*~*~*~*~*
July 14th, Yes Trek Day 4
*~*~*~*~*~*~*~*~*~*~*~*~*
When I awoke, still a little woozy, I asked my gentlemen companions if they wouldn't mind collecting Derek from the airport without me. I moved slowly but was coming around, and the three of them returned to find me upright, groomed and dressed in a groovy, flowery gown, doing a pretty convincing job of carrying myself merrily again. The idea of food seemed tempting and we descended the stairs to the dining room where another party of diners, three men in two-piece suits, were conducting business. "When we are all seated down there, we won't look anything like those guys," I commented. "Will we?" Derek in his Yesshirt agreed, said he was often one of those guys, a suit with important things to do. Our aim here was to conduct leisure.
Once I had sustenance in me, it would be easier to participate in the imminent prospect of having fun. I was never so glad to find grits on a menu, the bland white grain you eat with sausage gravy beside your eggs in the south. Caloric yet flavorless, it was the perfect way to ease myself into rejoining the world of the appetitive. A flock of big, plastic, decorative sea gulls were coming right toward us from out of the high ceiling while we ate. The "realistic" birds and the big picture of a tree (in lieu of the real thing) seen from the window of the elevator on the ground floor imparted a pleasingly cheesy sensation. Yann seemed particularly keen on cheese. The staff laughed at our crude joviality, appreciating us better, no doubt, than the party of suits. The smell of coffee brought me further around, although I fastidiously chose to imbibe the more summery and indigenous southern brewed iced tea.
As the others packed the van, I lolled in the shade beside the parking lot, listening to the mockingbird. It had a repertoire of 20 songs or more and I tried to discern the fervent melodies
that would carry me on
midst the balance of being one.
Away down Interstate 40 we sped, Chris driving again to allow me relax in the back and further convalesce. I looked at the Furstenwurth family photos and showed Derek mine. Our day-tripper had come bearing many Yes live recordings, sessions, etc. and he cordially invited us to make requests for our favorite rarities. We decided to hear two live versions of South Side of the Sky among others. We stopped at another McDonald's where all I could manage was a nugget and a couple fries. Derek returned with his tray and an anecdote about the cashier, a young lady who complained to him -- or aloud to herself, he wasn't sure -- that her manager was disappointed she hadn't hidden the hickey on her neck.
To my delight I discovered a fresh peach outpost right next door and wandered over while waiting for Chris to finish slowly savoring each bite of his sumptuous burger stand banquet. The peaches were so sweet and aromatic, the first of the summer season for me, and Derek, who is a gardener like myself, also moaned appreciatively while biting into one, once we were on our way. Derek drove from McDonald's to Oklahoma City. The details are a little hazy again: sorry. It took me another day to fully recover my wits (the few I had to begin with) and it may have been for this reason that I failed to remember that our destination that afternoon, Oklahoma City, was the scene of the domestic terrorist bombing at the Alfred P. Muher Building. We even arrived with time to kill before Derek's flight and chose, instead of gawking at the bombsite, to play some Frisbee at a remote city park where a few clusters of trees stood, providing shade.
I believe it was here that I first invited Yann to ritualistically fling the party-in-the-park Frisbee discus and disappointedly discovered that he not only didn't, but wouldn't play: preposterous.
the truth of sport plays rings around you
As with the presumption about Yesfans and alcohol consumption, I also just took it for granted that we all played Frisbee. Yann told me his dog, Victor, would play if he were here and I even told Yann I would be his dog. (Sorry for applying so much pressure, ami. I didn't want you to miss out on a single opportunity for fun and, frankly, Frisbee rules in the land of outdoorsy diversion!) He took it upon himself to take pictures, instead. Chris, Derek and I formed a wide triangle and began impressing one another with our perspective stylistic approaches. The Frisbee spun and sailed in the hot Oklahoma sun, took a few dips in the stagnant creek and seemed frequently to bounce off Derek's head and roll away -- it had taken years for him to perfect this move, he said.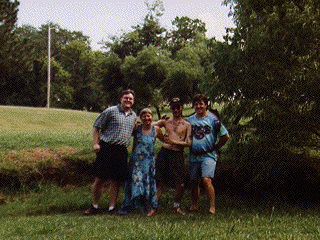 chris, merry, yann, derek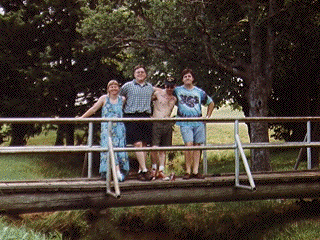 merry, chris, yann, derek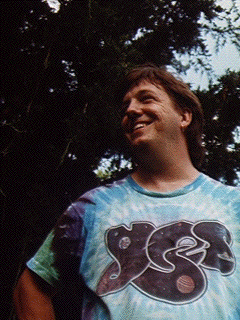 derek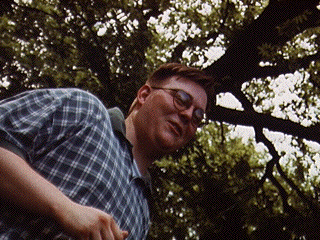 chris
After the shoot, I was putting my camera away and found the bag of bottle rockets I had packed in case an occasion for obstreperous celebration arose. Yann and I began to light and launch them from a bottle, far as we were from the likelihood of bothering anyone, and as they screamed and popped I was told that it was Bastille Day in France! How about that? I felt better having made Yann happy, but the activity ate up time. The ride to the airport grew steadily frantic as we made three wrong turns, but we managed to drop Derek at the terminal entrance with five whole minutes to board his plane.
I was ready to drive again for the first time in days and we stopped for gas at a 7-11. As Chris was going in to pay I asked if he'd get me Pepsi Slurpee -- the air was oppressively hot and it seemed just the thing -- so he returned with three jumbosized frozen drinks, one for each of us. The Pepsi machine wasn't working, though, and I tried, but couldn't muster enthusiasm for either the taste of "Dr. Pepper" or "Cherry Limeade." Chris ended up drinking both mine and his and I felt like a heel, as if I had sabotaged his gesture of generosity. (It really did get to me, Chris, but the actual abundance of sweet frozen goo didn't do a thing: I'm so sorry, and thankful, still.)
other skylines
other skylines to hold you
Across the plains, pictures of distance were spreading out before us now. White cumulonimbus clouds piled up along the horizon in panoramic majesty, turning gray below, where they were raining, and displaying sudden flashes of lightning which elicited a responsive "woo!" and "wow!" and "whoa!" from each of us in turn. Ironically a rainstorm christened us just as we entered into a far more arid environment than any of us were used to.
as apart from any reality that you've
ever seen and known
The quickly-passing cloudburst dinked us with a hailstone or three, pea-sized.
Oklahoma became Texas somewhere around the time I perceived my first whiffs of sage brush which everywhere perfumes the Great Basin of the southwest (low-lying and high desert between the Topographic features of Colorado's Rocky Mountains and California's Sierra Nevada range). If I were able to link you to aromatic files, or Olfaction Plug-Ins, I would include Desert Sage here, and later, California's Eucalyptus and Bay Laurel: ahhh! mmmmm. It was a welcoming, returning, reassuring smell which lit up my memories of previous travels here. I stuck my head out the window into the sweet-hot blast of air.
We gassed up in Amarillo and refreshed our supply of beverages, the boys adding Budweiser in cans to the cooler. Chris drove and Yann relinquished his place in the passenger seat to me. He snoozed in the back while I cracked Kathy's donated-to-the-cause salted pumpkin and sunflowers seeds, sending tiny hulls out the window all the way to Tucumcari. At one point, the dry delight of the drive was momentarily decimated by the strong smell of cow manure. Just as we discerned a crampackedjammedfull cattle farm, the van was spattered with a cloud of dung-loving insects. Strangely enough, this occurred around the same time that I was discovering my distinct distaste for Chris' music selection, Dada, whose lead singer was doing his best to convince me that the heart was just a piece of meat. The bad smell and bugs seemed to suit my mood in that moment just fine.
Gradually along this leg of the journey, behind the still stormy faraway cloudpiles, the sky evolved from deep blue to dark black, through neon pinks and purples. Far-off desert towns began to twinkle on the horizon many miles before we came upon them. I snapped a photo of the New Mexico sign and one of an exit ramp to San Jon, at Chris' request. We turned south just before the lights of Albuquerque to find Manzano Mountains State Park in the dark, nestled atop a mountain in one of the scattered ranges that comprise New Mexico's Cibola National Forest. I had found a description of it on the Internet and was hoping in the morning light to behold and show my friends some spectacular beauty.
When we arrived, the gate to Manzano Mountain State Park was locked. A sign to a campground promised something in the way of accommodations, so Chris drove up the narrow rocky road three winding miles through stunted pines and junipers and sage and desert flowers. The stars were turning! We somehow managed to pass the campground, for effect, I think, in retrospect, and went on another three miles, until the road began descending down the mountain. This seemed wrong because of the distance (we'd gone some miles beyond the three indicated by the sign), and we read a placard which indicated the town of Mountainair, well outside of the National Forest, would be the next outpost of civilization. Since I seemed to be the only one who maintained faith in our ability to see this night through, Chris let me drive. I put on some jubilant Vangelis, hoping to soothe our jangled nerves and mental uncertainties, and backtracked three miles to the campground.
We'd simply missed the turn. It wasn't populated, featuring just one other party, already asleep. I drove in circles to find a nice site among the many available. While the tired, disoriented, guys got their bearings, the pink! of popping aluminum Bud cans providing the soundtrack for the same, I was admiring the stars and setting up the tent in the dark with the van headlights on. At the picnic table I audiotaped an exchange with Yann, who was, shall we say, moved, with his first encounter with pit toilets.
Yann: Oh my God. I can't believe this.
Merry: What's wrong?
Y: That such a place exists.
M: What is it about the place that is so hard to believe?
Y: That some one set a camping ground with just four shitty holes in the ground and lovely pumps.
(Merry and Chris explode laughing.)
M: The pump isn't working, though.
Chris: So it's a non-pump.
Y: Ooh.
M: Ah.
Y: UNwondrous Stories.
M: I'm so sorry you're disappointed, Yann.
Y: I'm not disappointed; I had no expectations.
M: It's the pit toilet thing, isn't it?
Y: No, it's a lack of hot water..
M: We'll have hot water, just not tonight. We'll make it in the morning.
Y: How will you do it?
M: We'll just heat up water we have with us.
Y: Oh yes, making tea.
M: Yeah.
Y: Yeah. Shaving with tea. that's very impressive.
(Chris and Merry explode laughing again)
The situation seemed to call for the emotional warmth of a campfire and I'd brought some firewood along (as a veteran of many true summers of camping, I came equipped). Chris broke out his guitar and the resounding bronze strings rang out in the thin air of the starrydark and powerfully silent mountainside. I ventured vocal accompaniment to a few songs Chris and I both knew. We tried to recall the words/chords to the Beatles' "Rocky Raccoon" and Led Zeppelin's "Over the Hills and Far Away."
Yann eventually forgave me for the poor accommodations and returned, thankfully, in all his personable glory. He even said he *loved* me, twice (Yann would repeat himself when he was being most sincere). Placing my arm on his shoulder, I pointed away to two stars, teetering on the rim of a dim ridge, and recited some W.B.Yeats:
...and she is still there, busied with a dance,
deep in the dewy shadow of a wood
or where stars walk upon a mountaintop.
The brilliant band of our Milky Way was glowing over us. I encouraged the others adjust their necks to the appropriate angle, to see. For the life of me, I could not fathom how it was possible that these city boys could not be completely amazed! Chris even requested in the tent that we zip up the windows through which stars were shining. "Afraid of the dark, are we?" I asked. Actually there were panthers out here -- for REAL, not the abstract *amy* variety -- and a zipped window would not have mattered if one was hungry enough. I promised to protect Chris from the danger of darkness and he finally agreed to my insistence that we await the onset of sleep in the gentle infusion of quiet starlight that had traveled so far to play through wide pupils on our rods and cones.

my merry tale **** Day5